AirPC Portocapitalian Airlines is the international brand of Aeroliñas Portocapitalianas EGL, an employee-owned airline in the People's Republic of Porto Capital. Founded in March 302 from the government-mandated merger of five small former Brolecian and Extreman private companies, AirPC grew in the space of a few months from a small regional airline to the nation's number one carrier.
The airline is headquartered at the Porto Capital International Airport. The company's motto, as used in all its advertising material, is Uniting a new country.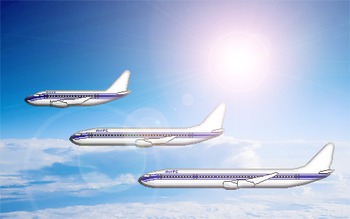 The company operates three series of aircraft manufactured by Lendosa Aviation: 32 units of the LAC-200 turboprop, six LAC-1000 and one single LAC-3000 for its international routes.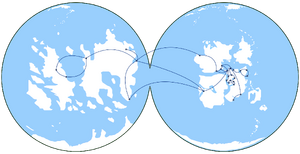 From its main hub in Porto Capital and a secondary one in Rate, AirPC has domestic routes to Belo Quinto, Baía, Balbo, Batista, Cidade D'Ouro, Espada, Estrela d'Oeste, Lacú, Medisponho, Mezapata, Olívia, Oran, Porto Capital, Rate, São Herculano, São Sebastião, Sol, Valença and Vermelha.
AirPC has one single international route: three weekly flights from Porto Capital to Fenizabad (Feniz), via Newton (Ordland), Markhamm (Vingarmark), Imperial City (Zartania) and Sehria Cimera).
Ad blocker interference detected!
Wikia is a free-to-use site that makes money from advertising. We have a modified experience for viewers using ad blockers

Wikia is not accessible if you've made further modifications. Remove the custom ad blocker rule(s) and the page will load as expected.