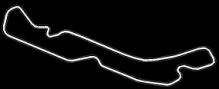 The Alphalpha Island Grand Prix (also referred to as Alphalpha Island Grand Prix of the Deucolands, or Alphalpha Island 300) is one of Vexillium's most prestigious open-wheel racing event, and one of the three longest-running events on the ICARA calendar.
The race is run on the Alphalpha Island Circuit, a road course within the city limits of Kaap Kierk, Freysariya, the Deucolands, and has been sponsored by Deuco airline AeroLuft from its inception in 300AP, when it was one of the first 3 ICARA races in the "Mini-Series".
List of Winners:
Edit
The table below lists the Alphalpha Island Grand Prix Champions since the race's establishment in 300 AP.