Arianse-Red Buffalo
Base
Samuelonia
Founded
314
Discipline
Road bicycle racing
Status
ProTeam
Bicyles
Arvondale
Manager
Arnold Dovecoat
Directeur Sportif
Hugh de Bayle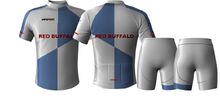 Arianse-Red Buffalo, formerly Red Buffalo Racing is a Samuelonian professional cycling team. The team was founded in 314 and accepted to compete in the 314 Tour of Samuelonia. RBR will be competing in 314 with Samuelonian rider Franc Ordencourt, Utanian, Rob Swan, Cruisanian, Theo Johanssen and Klawes Tönjesen from Meckeln-Flamlandt.
In January 316, directeur sportif, Hugh de Bayle announced the team would take on a second sponsor, with Lendosan computer company, Arianse entering co-sponsorship with Red Buffalo and the team would be rebranded Arianse-Red Buffalo for the new season.
Current Team
Edit
Ad blocker interference detected!
Wikia is a free-to-use site that makes money from advertising. We have a modified experience for viewers using ad blockers

Wikia is not accessible if you've made further modifications. Remove the custom ad blocker rule(s) and the page will load as expected.