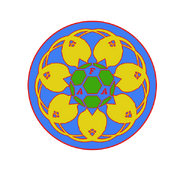 Associação Futebolística de Aros [AFA] (in ingallish: Football Association of Aros) is the national confideration that organizes the professional football in Aros, including the current Libertarians League One (the first division of profissional football). The AFA was created between 286 and 287Ap from the organization of the clubs with more highlights in Aros, with the aim of creating the first official National League of the country.
In 287Ap, was the year of the first national championship organized by the AFA, called First League. This edition counted on only 12 teams, among them its 8 creator members: Amstel FA, Canavaleira Sport, Janu Irans, Librador, River Nigel, Sagres C.C., Theobroma United, D.Vila. And 4 more guests: Atl. Davas, M.C. Luízian, Meritéia, Vertigo C.C.
The AFA has developed and become a solid organization independent of its creative members, being able to organize and update the competitions according to the demand of the national soccer. The AFA also started organizing the national Cup of Aros, called the Taça Aros, as well as a second division of the national league, among other things.
The association was also responsible for organizing, in 291Ap, the first official Aros team to compete in international competitions of selections. In which was the best players of the country selected from various clubs. Currently the Aros team has gained more prominence in the international soccer and could be a good candidate for titles of the VEX Cup, by IVEFA, in the next editions.
Organizations
Edit
Libertarians League One
Edit
Main Article: Libertarians League One
Taça Aros
Edit
Main Article: Taça Aros
Aros National Soccer Team
Edit
Main Article: Aros Team
Ranking AFA
Edit
Coming Soon
Other Data
Edit
Ad blocker interference detected!
Wikia is a free-to-use site that makes money from advertising. We have a modified experience for viewers using ad blockers

Wikia is not accessible if you've made further modifications. Remove the custom ad blocker rule(s) and the page will load as expected.