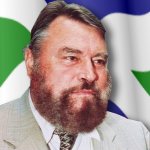 The Cruisian Democrats (abbrev. CruisDem) are a major political party in Aethelnia with seats in the federal assembly of Aethelnia.
The CruisDem party was formed in the run-up to the 301 general elections of the kingdom of Aethelnia, in which it was defeated by the Labour Party of Aethelnia. It later incorporated the fledgling Conservative party of Aethelnia in the run-up to the 305 general elections, in a bid to appeal to a greater number of voters. The CruisDems lost the 305 general elections, and are currently in opposition, though they did gain 20% of the votes. The party fought successfully against an attempted ban by the sole-reigning Labour party.
Though Cruisian democracy is heterogeneous, the party generally agrees on certain topics. They wish to undo the excesses" of the 302-305 Labour Party reign, lower taxes and investigate how much tax payers' money the government poured into the domestic aircraft industry. The party does not wish big government, and will put the economy at the service of humankind, and in particular the family, which they regard as the cornerstone of Futuronian civilization. The policies are guided by the Cruisian Holy Book, family values and traditional Aethelnian morals, norms and standards.
Ad blocker interference detected!
Wikia is a free-to-use site that makes money from advertising. We have a modified experience for viewers using ad blockers

Wikia is not accessible if you've made further modifications. Remove the custom ad blocker rule(s) and the page will load as expected.