Lord Justice H.V. Evattson is a Constitutional Court judge for the kingdom of Aethelnia, with a reputation for constant struggle against the Aethelnian establishment. He tries to seek real justice in the cases before him. He is known by the general public for his sometimes unorthodox actions.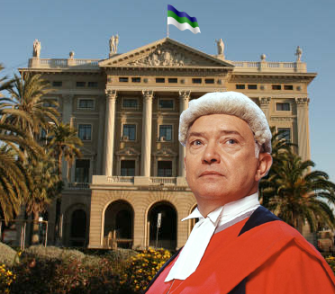 Personal life
Edit
Sir Horatio Victor Evattson (born January 21, 245) is from a working-class family. Adopted during early childhood. Biological parents unknown. Lord Justice Evattson is divorced, his ex-wife works as a KC (King's counsel, i.e. Lawyer) in Merlinburgh. Their marriage produced a daughter, who nowadays is an animal-rights activist and who studies to become a KC. Horatio was knighted by the king when he became a High Court judge, as is traditional for High Court judges in Aethelnia.
Lord Justice Evattson started his career as a Law student at Saint Thomas University. During his studies he became a member of the Labour Party. During most of his career H.V. Evattson has been active within the party. The late Lord Urquahart (prime minister 301-305) described his actions as: "Always working behind the screens, building the strength of the party, and eventually instrumental in Labour's landslide general elections victory in 301".
After his doctoral thesis on the treatment of Law concerning the monarch and reserve powers, which is rumoured to have been read by King William XVII, he started to practice Law as a KC in Saint George before moving to Merlinburgh for private reasons. In Merlinburgh, he was eventually appointed as a Canton Court judge, and after that he became a High Court judge in Saint Thomas. Lord Justice Evattson was finally appointed a Constitutional Court judge in 301. The court is located in Saint Thomas. He reports directly to the Lord Chief Justice of Aethelnia.
Court cases
Edit
External links
Edit
Ad blocker interference detected!
Wikia is a free-to-use site that makes money from advertising. We have a modified experience for viewers using ad blockers

Wikia is not accessible if you've made further modifications. Remove the custom ad blocker rule(s) and the page will load as expected.