Greenbay F.C.
Full name
Greenbay Football Club
Nickname(s)
The Griffins
Founded
198
Ground
Heizelburg Stadium
Capacity
33,000
Chairman
Lucifer Salozo
Manager
Umberto Scozcarti
League
RSSFA Division 1 (St. Samuel)
308-309
14th (Division 1)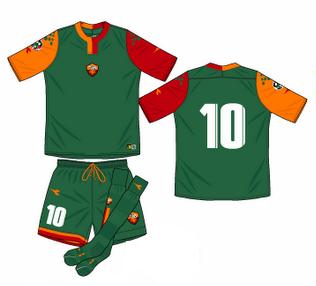 Greenbay Football Club are a football club based in Greenbay, Saint Lucius province in St. Samuel. Greenbay FC currently play in Division 1.
Heizelburg Stadium
Capacity: 33,000 all-seater
Current Squad
Edit
Number
Nationality
Player
Position
Goalkeeper
1
GK
Defenders
2
DC
5
DC
6
DR
3
DL
Midfielders / Wingers
7
MC
4
MC
8
MR
11
ML
Forwards
9
St. Samuel
FW
10
FW
Manager
M
St. Samuel
MGR
Ad blocker interference detected!
Wikia is a free-to-use site that makes money from advertising. We have a modified experience for viewers using ad blockers

Wikia is not accessible if you've made further modifications. Remove the custom ad blocker rule(s) and the page will load as expected.