The High Commission In Rosardan (HCIR) is an internationally recognized body which temporarily took over the executive power in Rosardan on May ...th, 308 AP.
After the sudden death of His Serene Highness Prince Devereux III end of 307 AP, a crisis broke out which threatened the stability of Rosardan and its neighbourhood. His Majesty King Edward II of Cruisana, politically and personally closely related to the deceased, installed a High Commission to prevent Rosardan of falling prey to foreign powers, and asked Feniz to join the commission.
Composition
Edit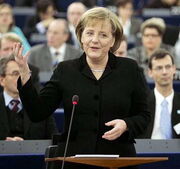 The HCIR consists of
the President, King Edward II of Cruisana
the High Commissioner, Ambassador Rosanna Merkel Emira (the Sultan of Feniz has not yet decided whether to send Elder Sultan W'Infri-Ed instead)
The Executive Office is manned by Fenizic civil and military officers.
See also
Edit
Ad blocker interference detected!
Wikia is a free-to-use site that makes money from advertising. We have a modified experience for viewers using ad blockers

Wikia is not accessible if you've made further modifications. Remove the custom ad blocker rule(s) and the page will load as expected.