High Samuelonia is one of twenty provinces of the United Federal Kingdom of Samuelonia, located centrally in Samuelonia. Francisco, the capital city of Samuelonia, is located in High Samuelonia. The provinces population currently stands at 8,418,272.
== Law and Government
The current Governor of the High Samuelonia Province is Lord Matthew Camberton.
Geography & Climate
Edit
Located in central Samuelonia, the High Samuelonia Province shares it's borders with the Saint Samoria and Correana provinces to the north, the Saint Leo, Saint Christantinus and Saint Rudolph provinces to the east and the Saint Sembus province to the south. To the west of High Samuelonia is the Dark Sea.
High Samuelonia enjoys a typical Mediterranean climate. It is at its most comfortable from April through June, and from mid-September to October, in particular, are famously known as sunny and warm days. By August, the temperature during the heat of the day often exceeds 35 °C. The average high temperature in December is about 19 °C.
Districts
Edit
The High Samuelonia Province is divided into four Barony's:
Barony of Franciscan
Barony of Charlemont
Barony of Hamilton
Barony of Windhelm
Barony of Albertyne
Major Towns
Edit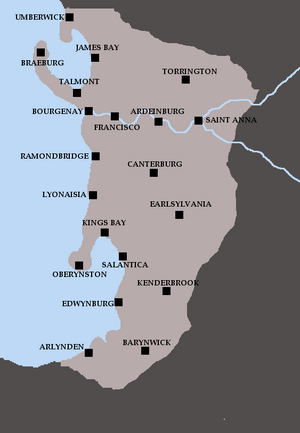 Barony of Windhelm

| Town | Population |
| --- | --- |
| Windhelm | 645,000 |
| Gelennberg | 44,000 |
| Santa Gonto | 40,000 |
| Atonenza | 8,000 |
Barony of Albertyne

| Town | Population |
| --- | --- |
| Bretonium | 1,217,000 |
| Saint Hilieno | 196,000 |
| Singustia | 31,000 |
| Navetica | 10,000 |
| Caglicom | 4,000 |
Demographics
Edit
Education
Edit
Conservation
Edit
Sport and recreation
Edit
The national sport of Samuelonia is soccer and enjoys it's biggest support in the High Samuelonia province. Rugby, golf and motor racing also attracts large followings. Alpine sports in the eastern region of High Samuelonia is popular with a large number of ski resorts nestled in the Black Mountains.
The Royal Francisco Motor Racing Circuit is located on the southern outskirts of Francisco and is an official venue for the Royal Motor Racing Federation of Saint Samuel F1 Championship.