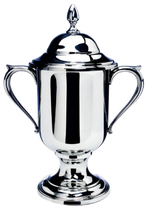 The
Huttler Cup
, also referred to as the
Scion Huttler Cup
or
Huttler Trophy
, is the main prize of the
VRB World Cup
and the most prestigious award of the
Vexillium Rugby Board
. The trophy is named after Scion Huttler, the first president of the VRB and the "World's biggest rugby fan". Huttler is often credited with exposing rugby to the wider world and expanding the popularity of the sport from a regional niche game to a global super sport. The trophy is silver and approximately 22 inches tall. It is strikingly plain, without ornaments or elaborate engravings, to represent the rugged, blue collar culture of
rugby
in many nations.
The Huttler Cup was presented to the winner of the rugby world cup in Shaelia, Westria. Mister Huttler, health permitting, was in attendance at the VRB World Cup Grand Final to present the winning nation the cup.
Ad blocker interference detected!
Wikia is a free-to-use site that makes money from advertising. We have a modified experience for viewers using ad blockers

Wikia is not accessible if you've made further modifications. Remove the custom ad blocker rule(s) and the page will load as expected.