Rosenburg (Official name: Land Rosenburg) is a canton (member state) of Aethelnia. it's state capital is Stadt Rosenburg
tba
During year 301-305, Land Rosenburg's territory was divided between 3 (now defunct) Aethelnian provinces, namely Rosenburg-Bad Doberin, Hochlandien, and Valley of Glamorgan.
Prior to 301, at some point in it's history of present-day Land Rosenburg, existed the now-defunct duchy of Niffelgletsch, duchy of Schmickelhofbrücke, duchy of Borscht, duchy of Momplitz, and the duchy of Kwitzelwitsch. All were eventually mediatized by the Crown of Aethelnia into the afore-mentioned provinces.
tba
Geography
Edit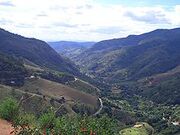 Education
Edit
tba
Transportation
Edit
tba
Administration
Edit
tba
tba
Sightseeing
Edit
tba
Ad blocker interference detected!
Wikia is a free-to-use site that makes money from advertising. We have a modified experience for viewers using ad blockers

Wikia is not accessible if you've made further modifications. Remove the custom ad blocker rule(s) and the page will load as expected.