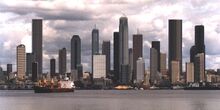 Mayerantritzpoort is one of the largest cities of the Greater Burovian Realm, and the largest city in Westria with a population of over 8 million (metro area total of almost 14 million) people.
It is located in the Westrian Prefecture of Westvaal, and was founded by and is named after famed Westrian naval merchant Mayer Antritz. It is also the largest port in Westria and Nuconia.
Ad blocker interference detected!
Wikia is a free-to-use site that makes money from advertising. We have a modified experience for viewers using ad blockers

Wikia is not accessible if you've made further modifications. Remove the custom ad blocker rule(s) and the page will load as expected.