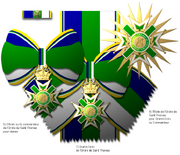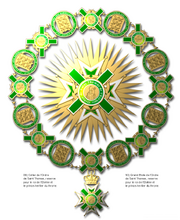 The Most Ancient Order of Saint Thomas, the patron saint of Aethelnia, was instituted by the archbishops of Saint Thomas, long before Aethelnia existed as an internationally-recognized, independent kingdom.
Nowadays, it is the most prestigious order of Aethelnia. It is conferred by HRM the King in his capacity as head of state of Aethelnia to Aethelnian nationals (as well as foreign heads of state and dignitaries) for selfless acts of compassion, faith, and mercy.
The king is sovereign of the order. Members convene once per year on the grounds of Saint Thomas' Cathedral.
Ad blocker interference detected!
Wikia is a free-to-use site that makes money from advertising. We have a modified experience for viewers using ad blockers

Wikia is not accessible if you've made further modifications. Remove the custom ad blocker rule(s) and the page will load as expected.