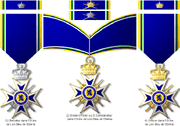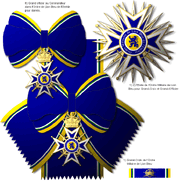 The Ordre Militaire de Lion Bleu de l'Etelnie is the military order of Aethelnia. It was instituted in by William I after the war of independence. It is conferred to members of the military for acts of exceptional bravery and loyalty, not necessarily having occurred during times of war. HRM the king, in his capacity as supreme commander of the royal Aethelnian armed forces, is the sovereign of the order. Members of the order convene once per year at Saint Thomas' Palace. The order exists of 5 classes, in order of highest-lowest importance: 1) grand-croix, 2) grand-officier, 3) commandeur, 4) officier and last 5) chevalier. The Etoile (=star) is part of the 1st and 2nd class.
In year 307 special insignia for women 6) were added, to avoid having them to have to wear the neck ribbon of the ranks of 2) grand-officer or 3) commander. In a wider perspective, the introduction of special insignia for women signals the clear commitment of the armed forces to attract more women to serve in the Royal Aethelnian Army , Royal Aethelnian Air Force and Royal Aethelnian Navy.
Ad blocker interference detected!
Wikia is a free-to-use site that makes money from advertising. We have a modified experience for viewers using ad blockers

Wikia is not accessible if you've made further modifications. Remove the custom ad blocker rule(s) and the page will load as expected.