This article covers the Royal Constabulary of Aethelnia. For the Royal Constabulary of Feniz click here.
---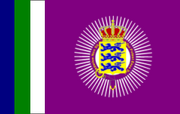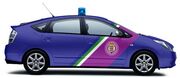 The Royal Constabulary of Aethelnia (abbrev. RCAE)is a military force consisting of soldiers trained for (military) police duties. The force also performs military functions by maintaining "mobile forces" of organised units. Such forces are sometimes also known as Gendarmeries or Marechaussees. The Royal Constabulary is one of the four military branches of Aethelnia. It is a gendarmerie force performing military and civil police missions.
In the other official languages of the kingdom of Aethelnia, the Royal Constabulary are known as Gendarmerie Royale de l'Etelnie, Guardia Civil de Atelnia, Reichsgendarmerie
The RCAE was reformed in 301-305.
The royal color Purple is used by the RCAE to symbolize their responsibility for the safety and security of royalty and royal palaces.
The force's Lilliani motto reads: Alterius Non Sit Qui Potest Esse Sui, which translates (roughly) as Be not Dependent on Another, He who can Stand on his Own Feet.
Structure
Edit
(Re)Establishing law and order in confilct situations.
Protection and security of senior government officials and federal government buildings.
Protection and security of royal house members and royal residences.
Protection and security of embassies, embassy staff, diplomats and ambassadorial residences abroad.
Military police role with regard to other 3 branches of the armed forces of Aethelnia.
Escorting of military convoys.
Coordination of mass maneuvering events during emergencies.
Perform military tasks associated with the defense of the national territory.
Support activities in the area of public order.
Control of the territory in large urban areas and in the most sensitive areas in terms of public safety.
Escort of money transports and security and surveillance of the Reserve_Bank_of_Aethelnia.
The Helicopter Group guarantees national coverage with light and multi-purpose choppers with a response time of 60 minutes.
under the command of the Ministry of Defence

Royal Aethelnian Army | Royal Aethelnian Navy | Royal Aethelnian Air Force | Royal Constabulary
Ad blocker interference detected!
Wikia is a free-to-use site that makes money from advertising. We have a modified experience for viewers using ad blockers

Wikia is not accessible if you've made further modifications. Remove the custom ad blocker rule(s) and the page will load as expected.