Several countries use the term Royal Standard to describe the flag used by the monarch and members of the royal family. This article concerns the Royal Standards used by Kings of Aethelnia in their capacity as head of state of Aethelnia.
Although almost universally called a standard, the royal flags used in Aethelnia are banners of arms, as they comprise the shield of the Royal Arms.
The Royal Standard is flown when the King is in residence in one of the royal residences, on the king's car on official journeys and on aircraft (when on the ground). It may also be flown on any building, official or private (but not ecclesiastical buildings), during a visit by the King. The Royal Standard is also used to be flown on board the Royal Yacht Aethelnica, when the King is on board.
The Royal Standard is only flown at royal residences when the Sovereign is in residence. If the national, tricolor flag is flying above Saint Thomas' Palace instead of the Royal Standard, the King is not in residence.
Unlike the tricolor, the Royal Standard is never-ever-in-a-million-years flown at half mast, even after the death of a monarch, as there is always a sovereign on the throne.
305 Royal Standard
Edit
Following the 305 Great Reforms of State, the then-king William XVII adopted a new Arms of the Realm to reflect changed political and cultural reality in the kingdom. A new Royal Standard followed, based on the new Realm Arms. It comprised a banner of arms with in the 1st quarter: Aethelnia proper, 2nd quarter: Wollonian Lands, 3rd quarter Hibernian Lands, and 4th quarter: Gardlies Lands. Charged with the crest of the House of Winsomme.
< 305 Royal Standard of William XVI, XVII
Edit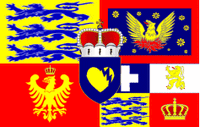 The < 305 Royal Standard was used during the regencies of William XVI and William XVII. It comprises a banner of arms. It represents the lands of the then-realm: First quarter shows Aethelnia proper, 2nd quarter shows the Phenixian-speaking Northern Lands, 3rd quarter shows the Hiberian-speaking Southern Lands, and the 4th quarter shows Aethelnian Hochlandien. The arms are charged with the crown and coat of arms of the Princely House of Winsom.
Ad blocker interference detected!
Wikia is a free-to-use site that makes money from advertising. We have a modified experience for viewers using ad blockers

Wikia is not accessible if you've made further modifications. Remove the custom ad blocker rule(s) and the page will load as expected.