Kingdom of Vingarmark (Vinnish: Konungríki Vinbjöð) situated in the West most part of the New Continents. Discovery of oil and gas in adjacent waters in the 260s boosted Vingarmark's economic fortunes.
Administration
Edit
ADD TEXT HERE.
Government
Edit
HOW GOVERNMENT IS ORGANIZED
Administrative Divisions
Edit
21 counties (syslur, singular - sysla): Bálagardssída, Björgvin, Blárlónsins, Bragilaug, Fjarrieyjar, Freyjaöræfi, Freyrfjordur, Gullskagi, Hodrfjall, Jokulsysla, Markhöfns, Njörðrfjordhur, Norðrmörk, Ranfjordhur, Sigurdvík, Snærsysla, Uppsysla, Vanirfjöll, Vingeborg, Vínviðfylkiand, Vársysla.
Political Parties
Edit
Social Democrats [Hugo LÖNNBERG]; Labour Party [Ingrid ÖTTERLUND]; Crustian's People Party [Jörgen GUNNARSSON]; Center Party [Alf ÁSDÍSSSON]; Liberal's Party [Jón BJÖRGVINSSON], Seamen's Party [Magnus LÚÐVÍKSSON]; Green Alliance [Norra LUNDQVIST]
SHORT DESCRIPTION OF COUNTRY'S HISTORY
Geography
Edit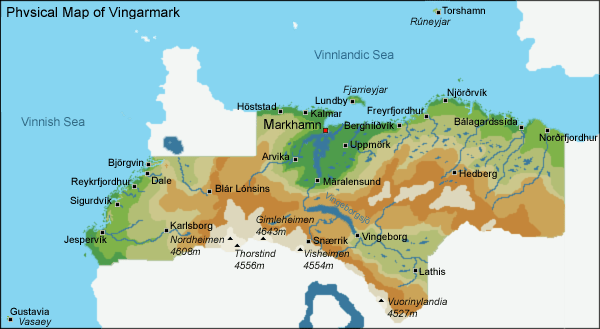 About 80% of the country is mountainous, covered by the two mountain range. The southeast part of the country is occupied by high plateaus, and gently rolling lowlands covers part of the Northern coast; The Vinnish coastline is deeply indented by fjords in the West and in the North. Some 50,000 islands off the indented coast.
Vingarmark enjoys a temperate climate. Winters can be cold and cloudy, and the summers are cool and cloudy; The cliamte of the west coast is generally warmer, but is reowned for its plentiful rainfall.
Demographics
Edit
DEMOGRAPHY AND ALL
National Symbols
Edit
FLAG AND SUCH
Vingarmark has a strong economy in finance and banking. The country is richly endowed with natural resources - petroleum, geothermal power, hydropower, fish, forests, and minerals. The economy is heavily oriented toward foreign trade. Despite the country's economic size, it boosts no less than 2 aircraft manufacturers, i.e. Aerobus and VAB-Nordica.
RELEVANT ASPECTS OF THE NATION'S CULTURE
Languages
Edit
Vinnish is the official language. Prominent foreign languages include Ingallish and Phenixian.
Ad blocker interference detected!
Wikia is a free-to-use site that makes money from advertising. We have a modified experience for viewers using ad blockers

Wikia is not accessible if you've made further modifications. Remove the custom ad blocker rule(s) and the page will load as expected.