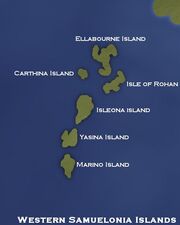 The Western Samuelonia Islands form an archipelago off the southern tip of the Zartanian Angliyaa peninsula. The group of six islands are an official Federal Island District of the United Federal Kingdom of St. Samuel.
Tourism forms a large segment of the Islands economies, along with farming and agriculture. Culturally the Islands share much with the nearby mainland province of Saint Omar's culture, as well as strong linguistic ties.
Geography
Edit
Ad blocker interference detected!
Wikia is a free-to-use site that makes money from advertising. We have a modified experience for viewers using ad blockers

Wikia is not accessible if you've made further modifications. Remove the custom ad blocker rule(s) and the page will load as expected.